1st Quarter Activity at Combined Properties
The 1st quarter of 2012 was very active on many fronts at Combined Properties! During the quarter, 37,848 SF of retail space was leased, 11 stores occupying 33,414 SF opened, City Council for the City of Fairfax (VA) approved redevelopment plans for Turnpike Shopping Center and Combined's headquarters in DC moved from the West End to Georgetown.
New leases include:
• 16,396 SF Chuck E. Cheese at Charles County Plaza (Waldorf, MD)
•   3,798 SF Avant Garde' Ballroom Dance Studio at White Flint Plaza (Rockville, MD)
•   3,200 SF Taste of Hong Kong at Sully Plaza (Chantilly, VA)
•   2,601 SF Artist & Brand Management at 9320 Wilshire Blvd (Beverly Hills, CA)
•   2,487 SF Five Guys at The Center at Coldwater (Studio City, CA)
•   2,325 SF Gift Store at Fairfax Circle Plaza (Fairfax, VA)
•   2,200 SF Sarku Japan at Turnpike Shopping Center (Fairfax, VA)
•   1,875 SF Sally's Hair Braiding at Maryland City Plaza (Laurel, MD)
•   1,400 SF Tutti Frutti Frozen Yogurt at Turnpike Shopping Center (Fairfax, VA)
•   1,333 SF Utopia Optometry at Commons at La Verne (La Verne, CA)
•      228 SF The Skin Within at Chatsworth Plaza (Chatsworth, CA)
•          5 SF ATM at Brentwood Place (Brentwood, CA)
The following stores opened:
•   6,600 SF Patient First at Sugarland Crossing (Sterling, VA)
•   6,300 SF Phenix Salon at 40 West Plaza (Baltimore, MD)
•   4,387 SF Adventure Kids Playcare at White Flint Plaza (Rockville, MD)
•   4,000 SF TD Bank at Turnpike Shopping Center (Fairfax, VA)
•   3,600 SF Wash N' Dry at Manaport Plaza (Manassas, VA)
•   2,000 SF Pickett Center Dental Care at Pickett Shopping Center (Fairfax, VA)
•   1,837 SF Weight Watchers at Studio City Place (Studio City, CA)
•   1,800 SF America's Best Wings at Enterprise Plaza (Lanham, MD)
•   1,350 SF Jackson Hewitt at 40 West Plaza (Baltimore, MD)
•      950 SF SushiEn at College Plaza (Rockville, MD)
•      590 SF La Purfumerie at Sunset & Olive (West Hollywood, CA)

Plans for redeveloping Turnpike Shopping Center met with approval from City Council for the City of Fairfax in mid-March. The center will undergo a transformation with a new façade and the end of the building will open up with the installation of glass storefronts fronting Pickett Road. Leasing for the center has ramped up significantly with the signing of Ross Dress for Less as the anchor. New tenants joining the center include: Chipotle, Elevation Burger, Sarku Japan, Tutti Frutti Frozen Yogurt, The Academy at Harvard Square, Fireside Subs, TD Bank and more to be announced in the near future.


In late February, Combined Properties headquarters moved into a beautiful, state of the art office at 1025 Thomas Jefferson Street in Georgetown. The space is nearly 16,000 SF, has 3 conference rooms, an employee lounge, HD video conferencing and numerous amenities plus a 6,500 SF rooftop terrace with views of the Potomac. The bold contemporary interior décor represents the styling and vision Combined will be bringing to future retail and mixed-use projects.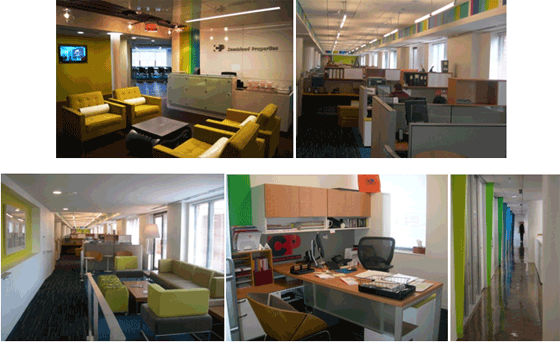 Firm Background
Combined Properties, Incorporated is a full-service real estate firm headquartered in Washington, DC with an office in Beverly Hills, CA. Founded in 1984, Combined Properties has consistently been ranked as one of the top private owners of retail centers in the Washington metropolitan area. With a portfolio comprised of 5 million square feet and a $400 million development pipeline, the firm is now branching out from its concentration in retail real estate by applying its multidisciplinary expertise in the areas of development, asset management, leasing, and finance, to developing innovative mixed-use properties.
For more information visit our website: dev.soe.io/combined