Combined Properties Announces New Acquisition with its JV Partner Saban Group
Combined Properties, Incorporated announces the acquisition ofThe Terraces in Rancho Palos Verdes, CA. The acquisition was managed through the Company's Beverly Hills, CA office and is the first property to be purchased in its joint venture with Saban Capital Group.
The Terraces is a 173,000 SF community shopping center located in the heart of the affluent community of Rancho Palos Verdes, a suburb of Los Angeles. The property features an excellent selection of retailers spread across three terraced levels including Trader Joe's, Marshalls, LA Fitness, Starlight Cinemas and more than two dozen other local and national merchants.
"Combined Properties continues to grow its presence in Southern California. Our joint venture fund with Saban Capital Group provides us with the business partner and firepower needed to acquire excellent centers in our core markets," stated Ronald Haft, Chairman of Combined Properties. The joint venture between Combined Properties and Saban Capital Group is a fund dedicated to buying in excess of $200 million of value-add, retail shopping centers in Southern California and the Washington, DC metro market.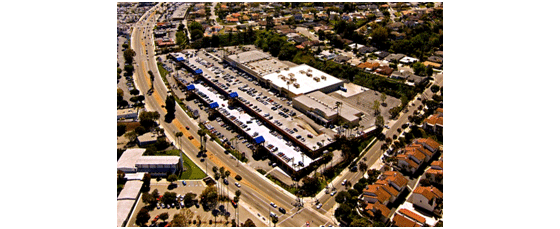 Saban Capital Group Background
Saban Capital Group ("SCG") is a leading private investment firm based in Los Angeles specializing in the media, entertainment, communication and real estate industries.
SCG was established by Haim Saban, co-founder of Fox Family Worldwide, a global television broadcasting, production, distribution and merchandising company owned in partnership with Rupert Murdoch and The News Corporation, following its sale to The Walt Disney Company in October 2001. The firm currently makes both controlling and minority investments in public and private companies and takes an active role in its portfolio companies. SCG's current private equity investments include: Univision (the premier Spanish-language media company in the US); Celestial Tiger Entertainment (a venture with Lionsgate and Astro, Malaysia's largest pay TV platform, to launch and operate new branded pay television channels across Asia); Taomee (China's leading children's online entertainment company); MNC (Indonesia's largest and only vertically-integrated media company); Sky Vision (Indonesia's largest Pay TV platform) and Partner Communications (a leading telecommunications company in Israel). Saban Brands LLC, an affiliate of SCG, was formed in 2010 to acquire, manage and license entertainment properties and consumer brands across media and consumer platforms globally, and currently holds the rights to Power Rangers and Paul Frank Industries in its portfolio. With offices in Los Angeles and Singapore, SCG actively manages a globally diversified portfolio of investments across public equities, credit, alternative investments, and real property assets.
Combined Properties Background
Combined Properties Background Combined Properties, Incorporated is a full-service real estate firm headquartered in Washington, DC with an office in Beverly Hills, CA. Founded in 1984, Combined Properties has consistently been ranked as one of the top private owners of retail centers in the Washington metropolitan area. With a portfolio comprised of 5 million square feet and a $1 billion development pipeline, the firm is now branching out from its concentration in retail real estate by applying its multidisciplinary expertise in the areas of development, asset management, leasing, and finance, to developing innovative mixed-use properties. Acquisition opportunities should be presented to:
• Randy Kenna (Washington, DC metro) 202.736.2831 / rkenna@combined.biz
• Scott Kend (Southern California) 310.205.9623 / skend@combined.biz
For more information visit our website: dev.soe.io/combined